Top Tauranga Motel uses CrestClean chemicals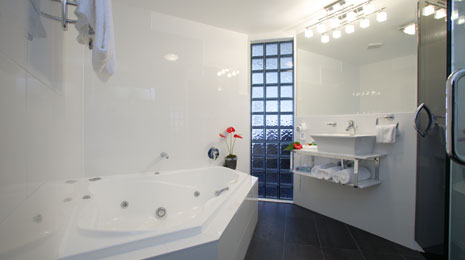 The Tauranga on the Waterfront, a leading Tauranga accommodation and conference facility is the first commercial customer for CrestClean chemicals and microfibre systems.
'We have a busy accommodation business and cleanliness is our number one priority,' says proprietor Tony Mangnus. 'We have had various chemical suppliers and systems in the past, but the CrestClean system is very simple, and the spray bottles with screen printed labels are the best we have ever seen.'
CrestClean supplies spray bottles with HSNO compliant labels. The screen printing means that the label does not deteriorate with use.
The Tauranga on the Waterfront began using CrestClean's Anti-Viral Sanitiser in 2010 when the Swine Flu outbreak occurred. The sanitiser is used to treat all touch surfaces, like light switches, taps, microwave buttons and fridge doors, anywhere that people touch. It kills traces of bacteria and viruses, and the product has a residual effect, which lasts for many days.
'When we commenced using the sanitiser, guests began to comment on how clean the units looked, and they appreciated the extra protection that the complex took to present high standards in the interests of public health,' comments Tony. 'Now we are using the sanitiser to clean the bathroom vanities, the kitchenettes, and all the hard surfaces, using it like a spray and wipe, and good comments keep flowing about the cleanliness.'
'We also use CrestClean's colour coded microfibre cloths, using different coloured cloths to clean the toilets, showers and vanities, and the kitchenettes, plus different colours for general dusting and cleaning glass. Its a very hygienic system that prevents cross-contamination, and our housekeepers are very impressed with the efficiency of the microfibre cloths.'
CrestClean chemicals are highly concentrated, and meet international environmental criteria to be less toxic to users and to have minimal effects on the environment.
'We look forward to continuing to set our high standards of hygiene at Tauranga on the Waterfront,' says Tony, and we are very pleased we made this change to the CrestClean chemical range.'