Surprise card a 'thank you' for keeping their school so clean
CrestClean's Alistair McCormick was floored when a huge card containing hand-written 'thank you' messages was left for his team.
The giant card was penned by grateful youngsters at Wakari School in appreciation for the efforts put in by CrestClean personnel to keep everything looking spick and span.
"This type of feedback coming from the kids themselves is very uplifting," says Alistair. "It's priceless and it makes you want to do more."
Alistair and his wife Mary are well respected by teachers and students at the schools they clean, says Nicky Kramers, CrestClean's Otago Regional Manager.
The husband and wife team have only recently started cleaning at Wakari. "The teachers and students are so happy with their work that the lovely kids made them a poster card with kind words about what having a clean school meant to them," says Nicky.
Wakari School Principal Chris Smith says from the beginning he was impressed by the commitment to the cleaning shown by Alistair and Mary. "I had a couple of good conversations with Alistair and I think he has high standards for the work he does.
"They seem to take pride in making sure they deliver a clean school for our teachers and kids every day."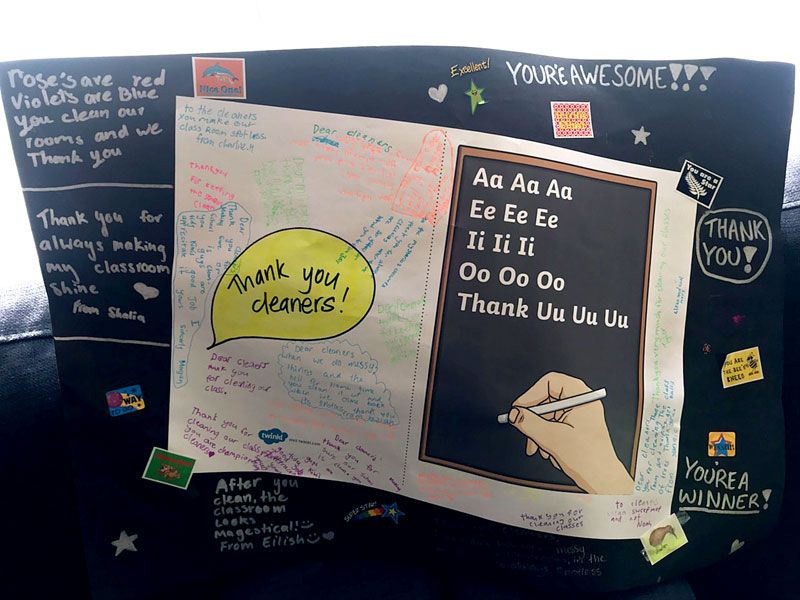 Chris says when the CrestClean team took over the cleaning the difference was immediate.
"The school wasn't in the greatest of shape, cleaning wise, and it was quite noticeable when someone was putting in some extra effort."
Introducing CrestClean's Cleanest Classroom Competition has also made a big difference, says Chris.
The competition is run at many of the schools that are cleaned by CrestClean business owners. The classroom that is kept the cleanest in the school is rewarded with a certificate and pizza at the end of each term.
"The kids are really into the cleanest classroom and the teachers are a relatively competitive group," says Chris.
Alistair says he and his wife love the work and being part of the school. "We feel very proud of the job we do. It brings a lot of job satisfaction."
He plans to laminate the 'thank you' card from the students and it will be a treasured keepsake. "To me it's very special."