CrestClean director in cruise mode with his beloved classic 1938 coupe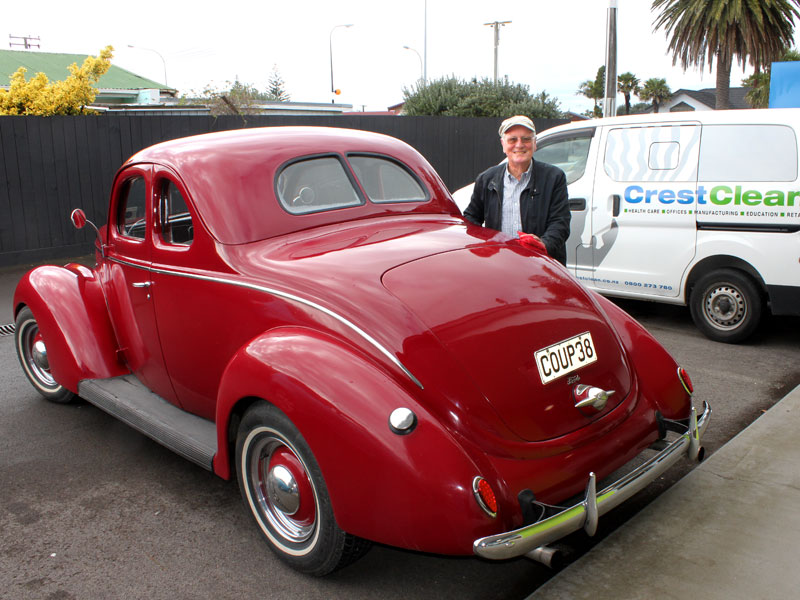 When he's behind the wheel of their beloved classic coupe it's all about the journey not the destination, says CrestClean director Marty Perkinson.
Marty and his wife Anne enjoy the attention the 1938 Ford V8 Coupe Flathead creates whenever they take it for a spin. The personal pleasure it brings to themselves and others far outweighs the cost of running and maintaining the vehicle.
"Don't ask me about miles per gallon, just ask me about smiles per gallon," he says with a grin.
"It's the joy that everybody acknowledges you and waves to you. If you park it doesn't take long before someone will come up and begin asking about the car."
It's the second time the Auckland couple have owned the distinctive red coupe. They first purchased it 10 years ago but parted company with it after a fellow V8 enthusiast tempted them with an offer they couldn't refuse.
After selling it, they replaced the Ford with another classic runner – a 1939 Chevrolet Master Deluxe Coupe. But sadly the Chev was later written off after Marty and Anne were involved in a serious accident with a car driven by an overseas tourist.
Then things turned full circle when, out of the blue, the new owner of the 1938 Ford V8 Coupe got in touch again to see if they'd like to buy it back.
"He didn't really use it enough and wondered if we were interested in getting it back," says Marty.
That was six years ago and since then they've had some modifications carried out to improve the car's safety and making it easier to drive.
"We got seatbelts installed and we changed the gearbox to a synchronised one so it drives a lot smoother," he says.
The car will happily cruise around 90km/h on long journey, says Marty. In its heyday the 1938 Ford V8 Coupe was the model of choice for the police and local authorities in New Zealand.
Driving an old car means always being prepared for the unexpected, says Marty. However, if a breakdown happens there's never a shortage of willing hands. "You always get someone who is prepared to help you on these cars if you get a problem."
On one memorable occasion, while waiting at a busy intersection, the car overheated and stalled in the middle of the road, he says. "Anne got out to help direct the traffic but within 30 seconds three people stopped to help us!"
Owning a classic car brings a strong sense of camaraderie from meeting other enthusiasts at car rallies throughout the country, says Anne. "We love going to the rallies and meeting up with people.
"They are all from totally different backgrounds but that doesn't come into it at all. We all chat together and they become like family and friends."
Marty, who joined CrestClean in 2002, has a master's degree with honours in commerce and worked as a chartered accountant before pursuing a teaching career.
He taught at Auckland Grammar School, Auckland Technical Institute (now AUT University) and 29 years at The University of Auckland. He was appointed an Adjunct Professor at UNITEC for eight years. Throughout his time in teaching, he was involved in business ventures as well as being a taxation agent.