Introducing SafeClean, a full Health and Safety and Environmental Management System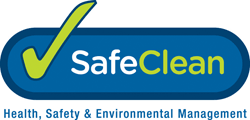 On 10 March 2014 the Government introduced the Health and Safety Reform Bill to Parliament.
It is the most significant reform of New Zealand's workplace health and safety system in 20 years.
This new legislation will affect the way all New Zealand businesses operate with regard workplace health, safety and environment. The Bill is expected to pass into law by the end of the year and will come into force in April 2015.
Specifically it will:
Put more onus on Senior Managers and Directors to keep their workers safe.
Require greater worker participation so workers are more involved in safety.
Establish stronger penalties, enforcement tools and court powers.
Create the Health and Safety at Work Act, replacing the Health and Safety in Employment Act 1992.
The reform package is aimed at reducing New Zealand's workplace injury and death toll by 25 per cent by 2020. 'Working Safer' will require leadership and action from business, workers and Government to achieve this goal.
In short, these new rules make an organisation responsible for the safety of all people entering their premises, including their own staff, their customers, and regular contractors like CrestClean.
We're ready.
CrestClean has launched SafeClean, a Health, Safety and Environmental Management system (HSEMS) designed to minimise the risks of our work at your premises.
CrestClean's Health, Safety and Environmental Management Systems are designed to comply with ASNZ: 4801, ISO: 14001, Contractor Pre-qualification and ACC Workplace Safety Management Practices.
The systems meet 'best practice' requirements for Safe Working Procedures, workforce participation, corporate responsibility and governance.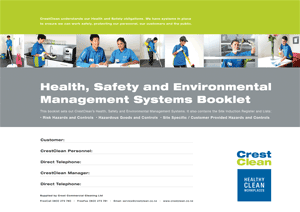 We supply a Health, Safety and Environmental Management Systems Booklet, which sets out our systems.
It also contains the Site Induction Register and Lists:
Risk Hazards and Controls of our cleaning services
Hazardous Goods and Controls
Site Specific / Customer Provided Hazards and Controls
Material Safety Data Sheets of chemicals used
All Health and Safety materials are contained within a Site Reference Folder, which is updated annually.
All personnel are properly inducted on to your site, and they receive specific Health and Safety training and upskilling as part of SafeClean.
SafeClean is hosted on a customised platform of Microsoft Dynamics CRM, which provides an up-to-the-minute database of our Health and Safety System.
CrestClean is committed to ensuring the safety and well being of all persons entering your premises and believe planning and implementing our HSEMS will prepare you for a healthier, safer workplace and for legislative changes.