2012 Wellington/Hutt Valley Award Winners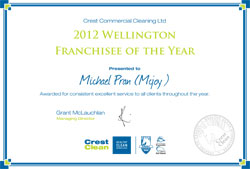 Congratulations to Michael Pran and his team for being the first winner of the Wellington and Hutt Valley Franchisee of the year 2012.
The awards were presented at the Christmas party held in late November at Grand Century Chinese restaurant. Michael and his team won this award based on the following criteria:
High standard of cleaning
Excellent customer relationships and communication including e-mails regarding the Christmas break
Regular customer contact to check they are getting it right
Low number of quality issues across the year from clients
Sumodh John and Reeji Anthony won the "Best Customer Service Award", this was awarded to the team that had zero quality issues throughout the year and every day went the extra mile for the customers.
Sumodh and Reeji have worked the morning shift tirelessly 7 days per week for the last 18 months and sadly are leaving New Zealand to return to India.
I would like to wish them well for their future endeavours and if they ever come back to NZ there will be a place with Crest Clean for them.