We're right behind you, Bob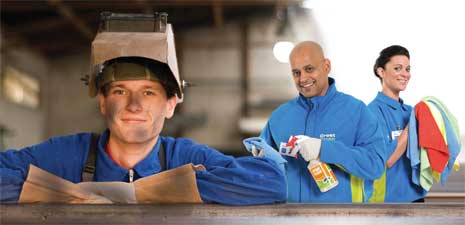 Bob's the sort of guy you'd want to be upwind of… Bob's work is hot, tough and gritty. One thing Bob really enjoys is a nice clean spot to enjoy his lunch.
That's where we come in.
CrestClean are proud to say we clean up around the place so Bob can enjoy a healthy clean workplace – from lunchroom to bathroom – from management areas to meltdown areas.
Tools of the Trade
Bob always leaves a little something behind every day for us – on lots of surfaces – and every night we sort it using our specialised tools. CrestClean utilises colour-coded microfibre cloths to clean hygienically, and Rubbermaid microfibre mops to clean floors expertly.
Dirty work… clean outcome. You'd like a quote to clean up around your workplace… right? You'll be talking to security trained and qualified cleaners – a national company with a local team to suit your sized operation, using the latest Environmentally Responsible cleaning products and full Health and Safety compliances.