Crest Wellington Franchisees receive invite from the Governor General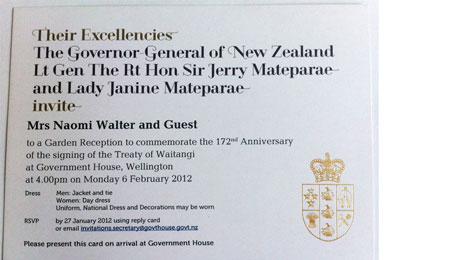 The New Zealand Governor General Lt Gen The Rt Hon Sir Jerry Mateparae and Lady Janine Mateparae have invited Crest Wellington Franchisees Naomi and Ray Walker, and Tai and Tavita Leu'u to a Garden Reception to commemorate the 172nd Anniversary of the signing of the Treaty of Waitangi at Government House in Wellington.
Crest cleans for the household and facilities at Government House in Wellington.
Wellington Regional Manager Andy Alleyway was also invited for the occasion.
This is a fabulous accolade for the Crest team. To receive a special invite from the Governor General is as "Regal" as it gets in New Zealand. We see it as a real honour. At the end of the day we are contractors, not staff, but the relationship that the Crest team has with their customers at Government House is very strong and respectful.
Well done to those involved at Government House, and enjoy your Garden Reception with the other VIP's. We trust that you will gain a lot of pride and satisfaction from this invite, and you will keep the originals as a souvenir of the respect you have gained from your customers.