Crest Regional Director Dries Mangnus hits a 10-year milestone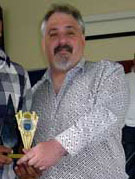 The 1st of February 2012 was a great day as it celebrated 10 years commitment to Crest by Dries Mangnus, Regional Director for Crest Auckland.
This is a great milestone for Dries to achieve. Crest Directors would like to thank Dries for his invaluable contribution over these years having firstly established the Crest operations in the Auckland marketplace where today we have 115 Franchisee teams. Dries' own territory now involves 54 Franchisee teams servicing 113 customers.
During the last 10 years Crest has grown from a small regional operator to an Internationally recognised brand that has a great future ahead; and Dries has played a large role in this success.
Dries has assisted with the creation and development of the other Auckland regions, South Auckland, North Harbour, East Auckland and recently our most recent new territory of West Auckland. Dries has also played a governing role within Crest and has always been around as a sounding board for directors and other regional managers for some of the initiatives we have undertaken.
Dries manages the account with Fonterra, which is Crest's largest single customer. This involves him managing the customer relationship at the 12 sites that we clean for Fonterra nationally.
Dries believes that the modern business environment poses many challenges. Picking the right people is the first key – matching them with the right customers is also vital.
Dries will tell you he is very motivated to grow the business this year, and he sees good prospects on the horizon for Crest Auckland and Crest nationally.
"Crest Auckland has been very successful, and I really enjoy the challenges the business brings. It's great getting good feedback from customers as to the good job our personnel are doing. I'm really satisfied when I hear positive praise from customers," says Dries.
Well-done Dries and once again thanks for the unfaltering commitment.