The Value of Cleaning
The Value of Cleaning stretches well beyond that of mere appearance. It is an investment in human health, the workplace environment and an improved bottom line.
In recent years international research has focused on the impact that proper cleaning has on reducing absenteeism, and in turn how reduced absenteeism increases productivity and ultimately profitability.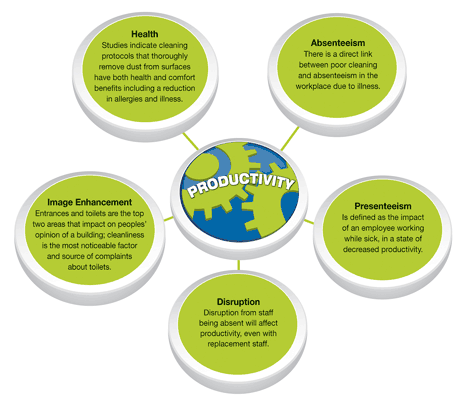 Some larger organisations have tracked lost productivity for periods before and after investing in improved cleaning, and noted significant reductions in absenteeism. This is put down to the impact proper cleaning and frequencies have on reducing the risk of workplace cross-contamination (the spreading of germs and bacteria between people, from touching food, tools, equipment and surfaces).
In the drive to help Kiwi companies improve workplace productivity, CrestClean has gathered examples of this research:
ISSA Value of Clean Context Information


The included document was released in 2011, and summarises contemporary research into, Absenteeism, Productivity, Image Enhancement, Presenteeism and tools to calculate the "Value of Clean", which is the concept of the value of proper cleaning as it affects organisations.

Health-Related Productivity Loss
A Review of Methods to Measure Health-related Productivity Loss

Charles P. Gerba, PhD et al. Classroom Hygiene Study, 2009
Occurrence of Bacteria and Viruses on Elementary Classroom Surfaces and the Potential Role of Classroom Hygiene in the Spread of Infectious Diseases.
There is no doubt that proper cleaning positively impacts occupant health, improving productivity and the bottom line profitability of an organisation.

"There is a direct link between workplace hygiene and productivity. The reality is that workplace illness is a significant health issue in New Zealand with 10-20% of people affected by viruses such as influenza which is then passed onto their family members."
Dr Charles Gerba, Environmental Microbiologist, University of Arizona.
CrestClean's professional approach to cleaning ensures our customers are in good hands when it comes to creating a healthy clean workplace. Our NZQA trained personnel use hygienic cleaning systems backed by strong corporate operating procedures. Local regional managers provide proactive quality assurances.