Chris Chapman Appointed as Quality and Training Manager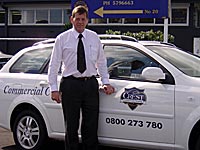 As part of Crest's drive to improve the training we offer to franchisees, Crest has recently appointed Chris Chapman to the role of Quality and Training Manager.
Chris has had over 30 years of involvement in the cleaning industry. Twice he has owned his own contract cleaning businesses, and some time ago he was an Area Manager for Crothalls. He has also held the roles of Operations Supervisor and the Client Relations Manager for other large cleaning companies.
Chris will be setting up workshops and short courses to up skill and to improve quality. His 'Smart Cleaning' courses will teach appropriate techniques, good time management, use of innovation in new equipment, and learning to work smarter instead of harder. Chris enjoys a hands-on approach and enjoys new challenges.  As you meet Chris you will find him very knowledgeable, and he will certainly add value to your business by introducing betters ways of doing things.
Chris will work closely with Crest's Director of Training, Jim Brand. All material presented has been thoroughly researched and is based on 'best practice' industry standards.
Crest's training courses are brought to you free of charge, we ask that you put the time into attending them so you will learn the correct procedures and techniques to perform a quality job for your customers. It is also important that you invite any family members and workers you may have to attend these courses, as if these people are working in your business they too need to learn new techniques to perform a quality job.
Crest's policy is to ensure that all franchisees and workers have been exposed to a formal training process. In this way we can truthfully say to our customers that we present trained and qualified cleaning professionals to provide a high quality service.
Don't forget we live in the 'knowledge economy' and increasing your knowledge brings efficiencies in the way we operate your businesses.
Chris will also be running Hard Floor workshops with assistance of Proclean, as well as conducting customer quality appraisals, and looking at improving the work flow at certain larger jobs.
There are many things you could ask Chris about you approach your particular contracts, and you will find that Chris can give you the benefit of his experience to assist you to find better ways of doing things.
We welcome Chris to his role at Crest, and we look forward to hearing positive feedback from the contact you will have with Chris.